Type:
Annual
Seed #:
201
Common Name:
Daisy - Edible Shingiku
Latin Name:
coronarium
Variety:
Edible Shingiku Daisy
Colour:
Yellow
Temperature:
18C - 22C (64F - 72F) (Zone 2)
Blooms:
June to September
Site:
Full Sun
Height:
50cm - 65cm (20" - 26")
Spread:
2cm - 30cm (1" - 12")
Quantity:
100 Seeds
Price:
$3.99

Attracts
Butterflies
Great
Cutflower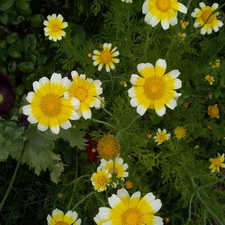 Notes: Brilliant yellow, edible flowers 3 cm across with a deeper yellow center. Produces abundant edible blooms season. Adds interest to summer salads. Bees adore it. Also makes great mulch for winterizing beds and garden edges. Adds class and conversation to any garden salad or garnish.


Instructions: Direct sow 2 mm deep when the temperature below is present. Germination 7 to 21 days. Maybe slow to germinate but will catch up quickly. Best grown in a full sun location.


Habitat: Well drained, but moist and full sun location.