Type:
Annual
Seed #:
202
Common Name:
Sunflower - Earthwalker
Latin Name:
Helianthus annus
Variety:
Earthwalker
Colour:
yellows, oranges and reds
Temperature:
15C - 20C (59F - 68F) (Zone 2)
Blooms:
July to September
Site:
Full Sun
Height:
150cm - 170cm (59" - 67")
Spread:
30cm - 60cm (12" - 24")
Seeds per pack:
25
Price:
$4.00

Attracts
Butterflies
Great
Cutflower
Drought
Tolerant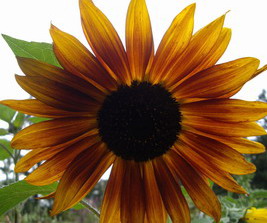 Notes: A strong multibranching type that provides loads of flowers for cutting. Flowers are 6 to 8 in.across in a range of yellows,orange and reds. Produces small black, high oil content seeds that birds love.


Instructions: Sow 3 cm deep. Germination is 8 to 15 days. Start indoors in April or direct sow outside when soil temperature allows.