Type:
Perennial
Seed #:
210
Common Name:
Yellow Foxglove
Latin Name:
Digitalis lutea
Colour:
Yellow
Temperature:
18C - 22C (64F - 72F) (Zone 2)
Zone:
2
Blooms:
May to August
Site:
Full Shade or Part Shade
Height:
100cm - 120cm (39" - 47")
Spread:
25cm - 35cm (10" - 14")
Seeds per pack:
0
Price:
$0.00

Attracts
Butterflies
Great
Cutflower
Deer
Resistant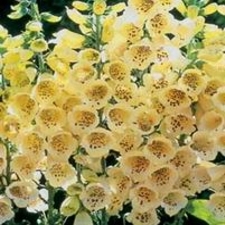 Notes: Foxglove produces spires of large yellow tubular florets with speckled throats. Flowers 1st year from early sowing. Plants are hardy biennials.Useful as cut-flower or wild flowers. Self sowing.


Instructions: Direct sow 2 mm in the Fall or early Spring.