Type:
Herb
Seed #:
218
Common Name:
Culinary Sage
Latin Name:
Salvia officinalis
Variety:
Culinary
Colour:
Herb
Temperature:
16C - 22C (61F - 72F) (Zone 2)
Blooms:
July to September
Site:
Full Sun
Height:
60cm - 80cm (24" - 31")
Spread:
30cm - 60cm (12" - 24")
Quantity:
25 Seeds
Price:
$3.33

Attracts
Butterflies
Deer
Resistant
Drought
Tolerant
Scented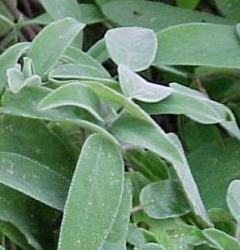 Notes: Attractive, drought tolerant and produces unique purple flowers. Use for flavouring meat, soups, stews, salads and stuffing. Prune early in Spring to help keep plants bushy. Highly aromatic and may be used as a gargle to aid in soothing inflammation of nose and throat. Easy to grow.


Instructions: Direct seed 2 mm deep. Germinates 10 to 12 days.


Habitat: Sage works well with many herbs, but avoid planting next to onions.


History: In the early Middle, Ages Sage was commonly cultivated in monastery gardens for its benefits of healing many human ailments


Medicinal: The ancient Greeks and Romans first used sage as a meat preservative. They also believe it could enhance memory snakebites, increase a woman's fertility, and more. Dioscorides and Pliny recommended sage as a diuretic and tonic.