Type:
Herb
Seed #:
219
Common Name:
St. Johns Wort
Latin Name:
Hypericum perforatum
Variety:
Herb
Colour:
Yellow
Temperature:
15C - 18C (59F - 64F) (Zone 6)
Blooms:
July to August
Site:
Full Sun
Height:
45cm - 60cm (18" - 24")
Spread:
10cm - 12cm (4" - 5")
Quantity:
150 Seeds
Price:
$4.00

Attracts
Butterflies
Great
Cutflower
Deer
Resistant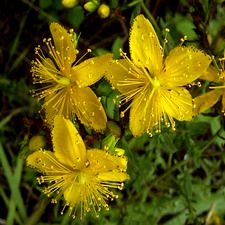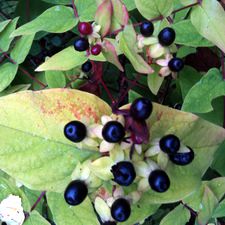 Notes: Produces a perennial herb in masses of 1 to 2" strong yellow flowers on light green variegated foliage in summer; and bright red summer berries ripening to black. Excellent ground cover and soil stabilizer. St John's Wort does best in fertile well-drained soil with ample water until established. Easy care and attracts birds and beneficial insects that aid in a healthy garden.


Instructions: Sow in early Spring in a sandy soil mix. 1 to 2 mm deep. Can spread in warmer climates but keeping it in a large pot in partial shade is common. St John Wort transplants well so starting indoors is recommended as bugs and other critters do like to eat this seed. Slow to start but very easy to grow.