Type:
Annual
Seed #:
22
Common Name:
Red Coreopsis
Latin Name:
coreopsis tinctoria
Variety:
Dwarf Red Plains
Colour:
Red
Temperature:
15C - 18C (59F - 64F) (Zone 4 & up)
Blooms:
July to September
Site:
Full Sun or Part Shade
Height:
40cm - 45cm (16" - 18")
Spread:
35cm - 40cm (14" - 16")
Quantity:
60 Seeds
Price:
$3.99

Attracts
Butterflies
Great
Cutflower
Deer
Resistant
Drought
Tolerant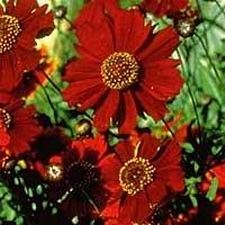 Notes: One of the best and oldest varieties of cultivated wildflowers. These plants prefer the well drained poor soil many of us are blessed with! Great cut flower and can be dried.Known for drawing butterflies, bing drought tolerant and even deer resistant. Adds a punch of unusual color to any landscape.


Instructions: Sow 2 mm deep. Germination is 14 to 21 days.