Type:
Perennial
Seed #:
222
Common Name:
Yarrow
Latin Name:
Achillea millefolium
Variety:
Rosea
Colour:
Pink
Temperature:
16C - 23C (61F - 73F) (Zone 2)
Zone:
2
Blooms:
July to August
Site:
Full Sun or Part Shade
Height:
30cm - 30cm (12" - 12")
Spread:
15cm - 20cm (6" - 8")
Seeds per pack:
0
Price:
$0.00

Attracts
Butterflies
Great
Cutflower
Deer
Resistant
Drought
Tolerant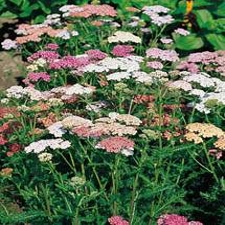 Notes: Used for centuries for medicinal purposes, these plants produce clusters of tiny pink flowers, on soft, lacey, aromatic foliage. Excellent for use in fresh or dried flower bouquets and grows well in poor dry soil. Herbal tea from the flowering plant can be made to treat colds, fever & indigestion. Yarrow has also been noted for its use in slowing external bleeding when leaves are crushed and wrapped around the wounded area. Native Americans depended on it for all of the above and more. Easy to grow.


Instructions: Surface sow. Germination is 10 to 15 days


History: Dried yarrow was among several medicinal herbs found during the excavation of a 50,000-year-old Neanderthal grave in Iraq. Also known as bloodwort as it was used to heal the wounds of soldiers in the Trojan war.


Medicinal: External application of the plant is beneficial for wounds and nosebleeds. It can also be used as a mouthwash for inflamed gums as the plant's essential oil contains an anti-inflammatory agent.