Type:
Vegetable
Seed #:
224
Common Name:
Peas - Dwarf Grey Sugar Snaps
Latin Name:
Pisum sativum
Variety:
Heirloom Sugar Snaps
Colour:
Green
Temperature:
10C - 15C (50F - 59F) (Zone 2)
Blooms:
65 days
Site:
Full Sun or Part Shade
Height:
70cm - 100cm (28" - 39")
Spread:
3cm - 5cm (1" - 2")
Quantity:
20 Seeds
Price:
$4.00

Attracts
Butterflies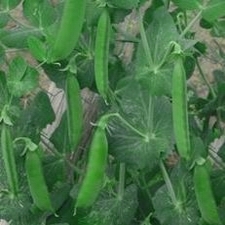 Notes: Perfect in a garden where space and shading are a concern. Produces lots of sweet, delicious pods on compact plants. You'll delight in the fresh flavour. Pick when pods begin to swell. Our most suitable pea for container gardening.


Instructions: Direct sow 1 to 2 cm deep in Spring when earth can be worked.


Habitat: Well-drained soil and mulch to assist in cooler roots and weed control. Important tip: When planting your peas avoid planting near garlic as it will inhibit the growth of vining legumes.