Type:
Vegetable
Seed #:
225
Common Name:
Beans - Florence Green
Latin Name:
Vicia Faba
Variety:
Florence Thin Green Beans
Colour:
Green
Temperature:
18C - 25C (64F - 77F) (Zone 2)
Blooms:
45 days
Site:
Full Sun or Part Shade
Height:
18cm - 24cm (7" - 9")
Spread:
5cm - 10cm (2" - 4")
Quantity:
30 Seeds
Price:
$3.99

Attracts
Butterflies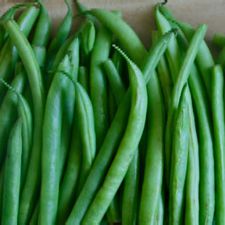 Notes: This Florence Thin Green bush bean produces yields of 5 to 6 inches long string-less beans with exceptional flavour. Beans are high in dietary fibre, protein and are an excellent source of iron, potassium, selenium, thiamine, vitamin B6, and folic acid. Bush beans do not need staking but pick often as this variety produces well.


Instructions: In mid-May direct sow seeds in warm soil at a 2 to 5 cm depth. Rows are spaced at 60 cm (14"). Beans are referred to as a warm-season vegetable. They prefer to have warm, with beans soil for best results. Let beans ripen fully on the vine. When the pods are plump harvest by handpicking, or cut the whole plant and hang to dry for easier seed collection.


Medicinal: Beans are a great source of protein, Vitamin C, dietary fibre, and beta-carotene.