Type:
Perennial
Seed #:
226
Common Name:
Foxglove Mix
Latin Name:
Digitalis
Variety:
Mix
Colour:
White & Pink & Yellow
Temperature:
18C - 22C (64F - 72F) (Zone 2)
Zone:
2
Blooms:
May to August
Site:
Part Shade
Height:
100cm - 120cm (39" - 47")
Spread:
25cm - 35cm (10" - 14")
Quantity:
150 Seeds
Price:
$3.99

Attracts
Butterflies
Great
Cutflower
Deer
Resistant
Scented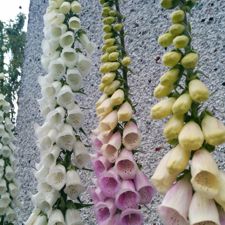 Notes: This variety produces spires of white and pink tubular florets with vividly speckled throats. Flowers 1st year from early sowing fall sowing. Plants are hardy biennials. Useful in a wildflower garden as it self-sows easily. Ancients founded the medicinal uses that are still used today in the treatment of heart problems. Hummingbirds love the early and late blooms. Cut flowering stems down to the ground to encourage second spikes.


Instructions: Direct sow 2 mm in the Fall or early Spring.