Type:
Perennial
Seed #:
227
Common Name:
Balloon Flower
Latin Name:
Platycodon grandiflorum
Variety:
Fuji Blue
Colour:
Blue
Temperature:
18C - 22C (64F - 72F) (Zone 3)
Zone:
3
Blooms:
July to August
Site:
Full Sun or Part Shade
Height:
20cm - 30cm (8" - 12")
Spread:
10cm - 20cm (4" - 8")
Quantity:
35 Seeds
Price:
$3.99

Attracts
Butterflies
Great
Cutflower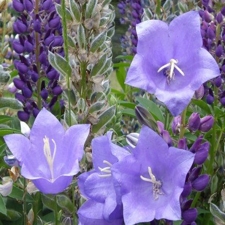 Notes: Excellent for use in beds, borders, rock gardens and containers. Dwarf plants produce hot air balloon shaped flower pods that puff up before bursting open to a star shaped purple blue flower, with dark veining. Easy to grow and makes a great conversation plant.


Instructions: No cover. Needs light to germinate in 10 to 15 days. Once the seed is germinated be patient as balloon flower usually doesn't start growing until late in the spring.


Habitat: Plant Balloon flower in full sun in well-drained soil. It's important that when you transplant Balloon flower that you place the plants no deeper than they were in their germination containers. Platycodon grandiflorum also benefit from mulching around the base to conserve water and protect the roots from the hot summer sun.