Type:
Annual
Seed #:
228
Common Name:
Milk Thistle
Latin Name:
Silybum marianum
Variety:
Species
Colour:
Purple
Temperature:
20C - 25C (68F - 77F) (Zone 3)
Blooms:
July to September
Site:
Full Sun
Height:
90cm - 120cm (35" - 47")
Spread:
30cm - 40cm (12" - 16")
Seeds per pack:
0
Price:
$0.00

Attracts
Butterflies
Great
Cutflower
Deer
Resistant
Drought
Tolerant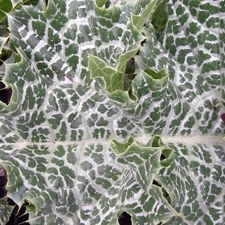 Notes: Long grown for its medicinal properties as a liver restorative, we grow it for its large showy, glossy green leaves with pronounced milky white veining. Milk Thistle produces many striking purple flowers on tall stems. Grows well in poor, rocky and dry soils. Self sows and germination is erratic.Also an important habitat plant for Monarch butterflies.


Instructions: Direct sow. 1 cm deep.