Type:
Vegetable
Seed #:
229
Common Name:
Chicory Radicchio
Latin Name:
Cichorium intybus
Variety:
Vegetable
Colour:
blue flwr./red let.
Temperature:
10C - 15C (50F - 59F) (Zone 2)
Blooms:
70 days
Site:
Full Sun or Part Shade
Height:
60cm - 90cm (24" - 35")
Spread:
20cm - 30cm (8" - 12")
Quantity:
50 Seeds
Price:
$3.99

Attracts
Butterflies
Drought
Tolerant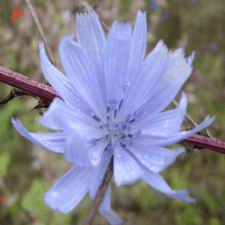 Notes: Traditionally grown for its roots which when dried and ground, are used as a coffee substitute. This multipurpose plant produce zesty red leaves which can be used fresh in salads or cooked like Spinach. Plants have strong ornamental qualities sporting 2" blue daisy like flowers on striking foliage.


Instructions: Sow 2 to 3 mm deep in May or June about 12 inches apart. Will self sow if let go to seed. Grows in almost any soil but requires water in drier weather.


History: Chicory was brought to Europe from North America in the early 1700's. Its history can be traced back to the Egyptians. Linnaeus used Chicory in his floral clock for the accuracy of the flowers opening at 5 am and closing again at 10 am in his latitude. In Canada and the US it closes up about noon and reopens again about 6 or 7 am.


Medicinal: Chicory was an effective herbal remedy in Roman history. Usually prescribed for liver ailments. In later years herbalists prepared tonics form the roots for diuretics, poultices and laxatives. The roots of Chicory when dried ,roasted and then ground are an excellent substitute for coffee.Chicory is also a great source of minerals and vitamins A,B and C.