Type:
Perennial
Seed #:
23
Common Name:
Lupines
Latin Name:
Lupines albus
Variety:
Lupinus
Colour:
Purple
Temperature:
15C - 21C (59F - 70F) (Zone 3 & up)
Zone:
3 & up
Blooms:
June to July
Site:
Part Shade
Height:
90cm - 100cm (35" - 39")
Spread:
30cm - 40cm (12" - 16")
Seeds per pack:
0
Price:
$0.00

Attracts
Butterflies
Great
Cutflower
Deer
Resistant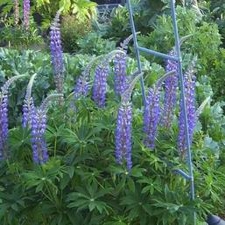 Notes: Produces lots of spikes of long scented flowers great for cutting. Easy care plant in beds and borders. Thin foliage out on established plants and water from the bottom for optimal results. Trumpet shaped flowers are followed by spiky ornamental seedpods which last well and cut arrangements.


Instructions: Scarify & soak 24 hours. Germination is 14 to 28 days.