Type:
Perennial
Seed #:
247
Common Name:
Hollyhock
Latin Name:
alcea
Variety:
openly pollinated mix
Colour:
Pink
Temperature:
16C - 22C (61F - 72F) (Zone 2)
Zone:
2
Blooms:
June to August
Site:
Full Sun
Height:
150cm - 250cm (59" - 98")
Spread:
25cm - 30cm (10" - 12")
Seeds per pack:
50
Price:
$3.00

Attracts
Butterflies
Great
Cutflower
Deer
Resistant
Drought
Tolerant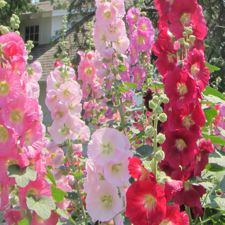 Notes: This biennial beauty shares a stunning mix of tall flowers that create a stunning backdrop for any space. Blooming in late June on. Excellent cut flower. Great for the back of borders & beds. Appreciates wind protection.


Instructions: Sow 2 mm deep in early Spring or in temperate climates sowing them in the fall with mulch for protection is successful. Germination is 10 to 21 days. If sown indoors, start 4 to 6 weeks before the last frost.