Type:
Perennial
Seed #:
25
Common Name:
Bee Balm
Latin Name:
Monarda didyma
Variety:
Cambridge Scarlet
Colour:
Red
Temperature:
15C - 22C (59F - 72F) (Zone 4 & up)
Zone:
4 & up
Blooms:
July to August
Site:
Full Sun or Part Shade
Height:
70cm - 100cm (28" - 39")
Spread:
30cm - 40cm (12" - 16")
Quantity:
50 Seeds
Price:
$3.99

Attracts
Butterflies
Great
Cutflower
Deer
Resistant
Drought
Tolerant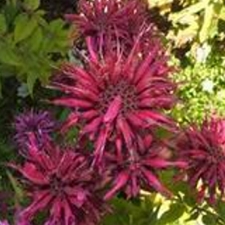 Notes: A slow spreading plant that has a great aroma. Sprinkle its leaves and flowers in fruit salads. Good plant for poor, well drained soil. It has a unique flowering habit, funky seed heads which makes it a gorgeous as a cut flower. Butterflies and hummingbirds love this plant and it is drought tolerant and deer resistant.


Instructions: Sow 1 mm deep. Germination is 14 to 21 days.