Type:
Perennial
Seed #:
270
Common Name:
Aubretia
Latin Name:
aubretia deltoidea
Variety:
Purple Rock Cress
Colour:
Purple
Temperature:
15C - 18C (59F - 64F) (Zone 5)
Zone:
5
Blooms:
March to June
Site:
Full Sun or Part Shade
Height:
15cm - 20cm (6" - 8")
Spread:
30cm - 35cm (12" - 14")
Quantity:
100 Seeds
Price:
$3.99

Attracts
Butterflies
Deer
Resistant
Drought
Tolerant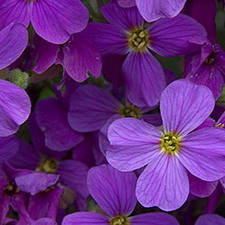 Notes: Aubretia is also known by the common name lilac bush. It is an eye-catching dwarf, trailing plant covered with flowers in rich purple shades that continues right through Spring. Aubretia creates a bold display in rock gardens, walls, borders and containers. Aubretia is an extremely tough, frost tolerant plant that is well suited for problem areas like full sun and sandy, drought-prone soils.


Instructions: Direct sow Spring or in Fall in zone above 5 or 6. Do not cover as seed needs light to germinate. Germination is 7 to 14 days.


Habitat: This alpine beauty is a low growing and compact that serves well as an outstanding addition in walls and rockeries located in full sun with free draining soil and spreads itself naturally by seed.


History: Aubrieta deltoidea is native to southeastern Europe, but it is also grown as an ornamental ground cover worldwide. This species of flowering plant in the mustard family.