Type:
Vegetable
Seed #:
272
Common Name:
Onion - Welsh
Latin Name:
Allium fistulosum
Variety:
Species
Colour:
White
Temperature:
18C - 25C (64F - 77F) (Zone 3)
Blooms:
2nd year bloomer
Site:
Full Sun
Height:
40cm - 50cm (16" - 20")
Spread:
3cm - 5cm (1" - 2")
Quantity:
65 Seeds
Price:
$3.99

Attracts
Butterflies
Deer
Resistant
Scented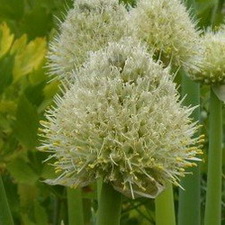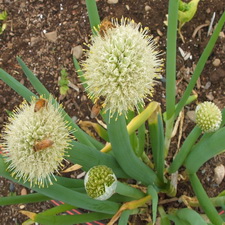 Notes: Also known as Japanese bunching onion or scallion. This onion does not produce bulbs but instead clumps of large hollow leaves, up to 50 cm tall, and is cold hardy. A plentiful early option of using flowering chives or other onion greens in salad, sandwiches and other dishes. Provides white globe-shaped flowers in late Spring making it a desirable pest deterring companion plant. Deer resistant!


Instructions: Direct Sow March to May at 5 to 10mm deep. Germination 10 to 14 days.


History: This species originated in Asia and the name Welsh onion is a misnomer in the English language. Allium fistulosum is not native to Wales. The word Welsh preserves the original meaning Old German "welsche", meaning "foreign.