Type:
Perennial
Seed #:
28
Common Name:
Ornamental Onion
Latin Name:
allium
Variety:
Eygptian Walking Stick
Colour:
White
Temperature:
10C - 15C (50F - 59F) (Zone 5 & up)
Zone:
5 & up
Blooms:
June to August
Site:
Full Sun or Part Shade
Height:
30cm - 50cm (12" - 20")
Spread:
5cm - 10cm (2" - 4")
Seeds per pack:
0
Price:
$0.00

Great
Cutflower
Deer
Resistant
Scented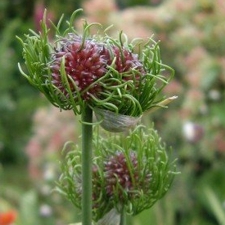 Notes: Tree onion or Old Man's beard is a highly unusual and easy to grow slow spreader. Also known as everlasting or eveready these drought tolerant, naturalizing perennials produce the bulb on the top of it's drumstick stems rather than the bottom. Old man's beard tiny bulbs sprout curly green hairs before dropping from the plant. Good companion plant for repelling aphids. All parts of this plant are edible.


Instructions: Surface sow in early Spring.