Type:
Vegetable
Seed #:
285 ( Edit )
Common Name:
Kale Red Russian
Latin Name:
Brassica oleracea
Colour:
Green
Temperature:
15C - 20C (59F - 68F) (Zone 4)
Blooms:
50 days
Site:
Full Sun
Height:
5cm - 7cm (2" - 3")
Spread:
20cm - 30cm (8" - 12")
Quantity:
100 Seeds
Price:
$3.33

Drought
Tolerant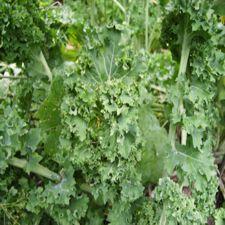 Notes: Siberian Kale to provide cool season greens straight from your garden. Easy, delicious and high in vitamins and fibre. Also, use in soups, stir-fries or as an attractive garnish. Very cold hardy.


Instructions: Direct Sow 1 cm deep in early Spring. Easy to grow. Will self-sow easily fora perpetual crop. Keep cool. Shade roots with mulch. Kale grown in nutrient-rich soil is more tender and vigorous. Leave one plant go to seed for subsequent years.


History: Kale has stir-fries for well over 2,000 years. Europeans grew it in abundance in the Middle Ages as it was a popular staple of their diet.