Type:
Vegetable
Seed #:
288
Common Name:
Yellow Onion
Latin Name:
Allium cepa
Variety:
Heirloom
Colour:
Yellow
Temperature:
18C - 25C (64F - 77F) (Zone 4)
Blooms:
150 days
Site:
Full Sun
Height:
25cm - 30cm (10" - 12")
Spread:
7cm - 10cm (3" - 4")
Quantity:
65 Seeds
Price:
$3.99

Deer
Resistant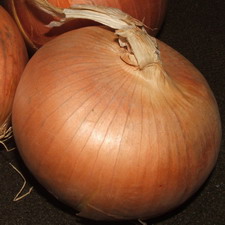 Notes: Harvest young for green onions or allow to grow and mature into wonderful 3 - 4" yellow bulbs. Nice uniform shape, mild flavour and good storage qualities make this a strong choice for any garden. Grows best in rich loamy soil in full sun.


Instructions: Direct Sow 1 to 2 cm deep in early Spring.