Type:
Vegetable
Seed #:
289
Common Name:
Red Giant Mustard
Latin Name:
Museum ardens
Variety:
Heirloom
Colour:
Red
Temperature:
15C - 18C (59F - 64F) (Zone 4)
Blooms:
40 days
Site:
Full Sun
Height:
24cm - 60cm (9" - 24")
Spread:
30cm - 60cm (12" - 24")
Quantity:
100 Seeds
Price:
$3.33

Attracts
Butterflies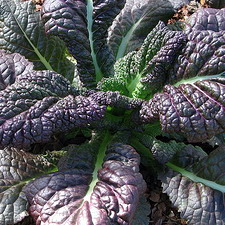 Notes: A hardy annual herb and vegetable with extra large deep red leaves and delicious tangy flavour. Harvest as required using a few leaves per plant in salads and stir-fries. Ideal for using in a child's garden because of ease and speed of growth and decorative qualities.


Instructions: Sow 2 cm deep. Germination 10 to 14 days.