Type:
Annual
Seed #:
291
Common Name:
Snapdragon
Latin Name:
Antirrhinum majus
Variety:
Yellow
Colour:
Yellow
Temperature:
18C - 23C (64F - 73F) (Zone 2)
Blooms:
June to September
Site:
Full Sun
Height:
20cm - 30cm (8" - 12")
Spread:
10cm - 12cm (4" - 5")
Seeds per pack:
50
Price:
$4.00

Attracts
Butterflies
Great
Cutflower
Deer
Resistant
Scented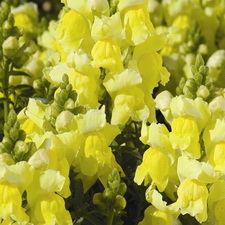 Notes: Stunning yellow snapdragons are easy to grow, cold hardy, free flowering, sweetly scented and make an excellent cut-flower. The blooms are a special adaptation of nature that allows the bumblebee to be the only pollinator strong enough to open them. Snapdragons are deer resistant and self-sow making them a perfect pick for wildflower gardens and rural areas. Blooms June to heavy frost.


Instructions: Sow 2 mm deep. Germination is 10 to 20 days.