Type:
Vegetable
Seed #:
297
Common Name:
Cucumber
Latin Name:
Cucumis sativus
Variety:
Marketmore
Colour:
Green
Temperature:
18C - 21C (64F - 70F) (Zone 2)
Blooms:
55-60 days
Site:
Full Sun or Part Shade
Height:
30cm - 40cm (12" - 16")
Spread:
120cm - 140cm (47" - 55")
Quantity:
30 Seeds
Price:
$3.99

Attracts
Butterflies
Scented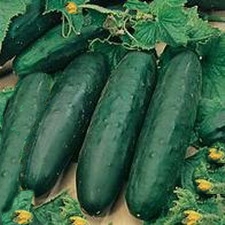 Notes: Long grown by farmers with some selective breeding to improve resistance to mildew, bacteria and bitterness. Produces lots of 8 -10 inch fruits for slicing or pick younger for pickling. Prefers rich, uniformly moist soil and full sun. Staking increase health and productivity.


Instructions: Plant 1 to cm deep. 3 seeds per hill 2 weeks after the last frost.


History: Cucumber is believed to have originated in northern India. It was known to ancient Egyptians, Greeks and Romans and was available in China in the sixth century AD.


Medicinal: Its skin is most valuable as the cell salts and vitamins are in and near it. Hence it should not be peeled. The cucumber is a dependable laxative food. It helps treat urinary tract disorders and has long been known for its use as a beauty aid.