Type:
Perennial
Seed #:
30
Common Name:
Pyrethrum Daisy
Latin Name:
tanacetum coccineum
Variety:
Giant Mix
Colour:
Pink
Temperature:
18C - 22C (64F - 72F) (Zone 5)
Zone:
5
Blooms:
May to July
Site:
Full Sun
Height:
65cm - 75cm (26" - 30")
Spread:
30cm - 35cm (12" - 14")
Quantity:
50 Seeds
Price:
$3.99

Attracts
Butterflies
Great
Cutflower
Deer
Resistant
Drought
Tolerant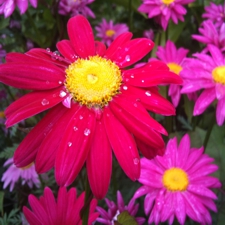 Notes: Trusty early blooming perennial and long-lasting cut flower that is deer resistant and drought tolerant. Striking daisy-like flowers, on strong stems, from slightly scented, feathery foliage in a range of pink and magenta shades. The great focal point for garden spaces and bouquets.Easy to grow and care for. A favourite of ours because of the early spring pop of colour it brings to our garden space.


Instructions: Sow 1 to 2 mm. Germination is 7 to 14 days.


History: Native to Caucasus.


Medicinal: Great companion plant as it protects valuable plants from unwanted insects.