Type:
Tomato
Seed #:
307
Common Name:
Tiny Tim Tomato
Latin Name:
Lycopersicon esculentum
Variety:
Cherry
Colour:
Red
Temperature:
22C - 24C (72F - 75F) (Zone 2)
Blooms:
45 days
Site:
Full Sun
Height:
65cm - 100cm (26" - 39")
Spread:
65cm - 70cm (26" - 28")
Quantity:
25 Seeds
Price:
$3.99

Attracts
Butterflies
Scented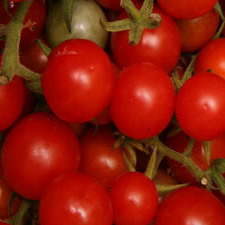 Notes: Small bush ,quick producing plants perfect for containers and small gardens. Heavy crop of cherry sized, sweetly flavoured, mouth watering tomatoes. Perfect for salads, sides or snacks.


Instructions: Sow 1 to 2 cm deep. Transplant when 2 sets of true leaves appear.