Type:
Vegetable
Seed #:
314
Common Name:
Dutch Broadleaf Cress
Latin Name:
Barbarrea verna
Variety:
Dutch Cress
Colour:
Green
Temperature:
10C - 15C (50F - 59F) (Zone 2)
Blooms:
May to September
Site:
Part to Full Shade
Height:
6cm - 8cm (2" - 3")
Spread:
4cm - 5cm (2" - 2")
Quantity:
125 Seeds
Price:
$3.99

Deer
Resistant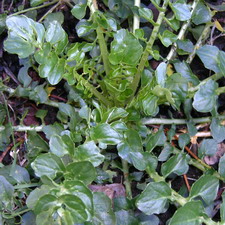 Notes: Quick growing, cold-hardy salad green similar to watercress. You can harvest the large, glossy globed shaped leaves in only 1 month. Leaves have a peppery flavour and are high in Vitamin C making them an excellent addition in mixed salads and sandwiches. Self-sows if left to go to seed.


Instructions: Sow seeds thickly 2 to 3 cm deep, 4 weeks before the last frost.


Habitat: Moist well-drained location in part to full shade for best results.


Medicinal: Cress is a source of iron, vitamin A. Cress also contains vitamins C and E, which watercress nutrients that help protect the cells from free radical damage.