Type:
Herb
Seed #:
325
Common Name:
Savoury - Summer
Latin Name:
S. hortensis
Variety:
Herb
Colour:
Green
Temperature:
15C - 20C (59F - 68F) (Zone 2)
Blooms:
July To September
Site:
Full Sun to Part Shade
Height:
18cm - 20cm (7" - 8")
Spread:
30cm - 3cm (12" - 1")
Quantity:
125 Seeds
Price:
$3.33

Attracts
Butterflies
Deer
Resistant
Scented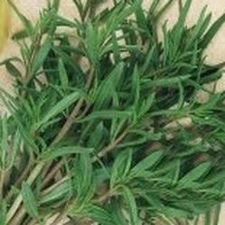 Notes: This outdoors growing herb can withstand a light harvest after 5 to 6 weeks. Summer Savory is often used in recipes where Thyme and Sage are called for.


Instructions: Summer savoury can be directly sown outdoors after the last frost of your zone. Sow 6 seeds per inch and cover lightly.


History: Summer savoury originates in southern Europe. It is a traditional ingredient in a mixture commonly known as 'herbes de Provence' This tasty mixture also uses some combination of dried thyme, rosemary, marjoram, oregano, lavender flowers, sage, basil or fennel seed.


Medicinal: 3 tablespoons oregano leaves 3 tablespoons thyme leaves 1 teaspoon basil leaves (fennel as an option) 1 teaspoon sage leaf 3 tablespoons savoury 2 tablespoons lavender flowers orange flavour as a replacement option) 1 teaspoon rosemary Directions: Combine and mix well. Store the mixture in small airtight jars in a dark cool location. Each Herb carries its own medicinal property and is still widely used as a healthy alternative to salt.