Type:
Perennial
Seed #:
33
Common Name:
Sea Holly
Latin Name:
eryngium amethystinum
Variety:
Blue Sky Spray
Colour:
Blue
Temperature:
18C - 25C (64F - 77F) (Zone 3 & up)
Zone:
3 & up
Blooms:
July to September
Site:
Full Sun
Height:
75cm - 80cm (30" - 31")
Spread:
30cm - 40cm (12" - 16")
Quantity:
35 Seeds
Price:
$3.99

Attracts
Butterflies
Great
Cutflower
Deer
Resistant
Drought
Tolerant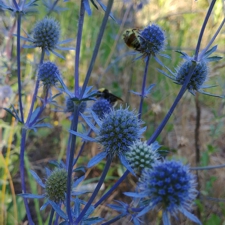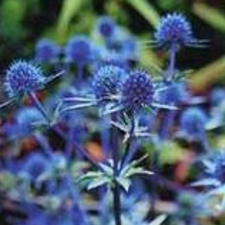 Notes: Dried flower rock star!As you can see by the image the bees adore this plant. Vibrant silver-blue foliage with metallic blue seedpods that sport radiant spiny bracts. Excellent in cut flowers & dried arrangements. Cut before they fully open as these will continue to open in the drying process. Hanging them upside down to dry ensures weaker stems do not flop over. A great conversation piece for a dinner bouquet or garden focal point. Long grown in seaside gardens for its salt tolerance. Deer resistant.


Instructions: Sow 2 mm deep in a prepared bed in late Spring or in a germination mix if sown indoors. Late fall sowings are also favoured in regions with a more temperate climate. Germination is 15 to 25 days. Keep moist while germinating but not wet.