Type:
Perennial
Seed #:
337
Common Name:
Butterfly Weed
Latin Name:
Asclepias incarnata
Variety:
Ice Ballet
Colour:
white
Temperature:
18C - 25C (64F - 77F) (Zone 3)
Zone:
3
Blooms:
June - August
Site:
Full Sun
Height:
60cm - 90cm (24" - 35")
Spread:
60cm - 90cm (24" - 35")
Seeds per pack:
0
Price:
$0.00

Attracts
Butterflies
Great
Cutflower
Drought
Tolerant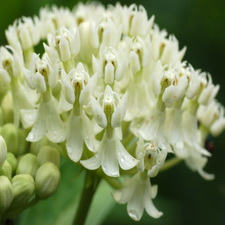 Notes: Produces unique bunches of white flowers that are magnets to bees, butterflies. This is a vital food source for Monarch butterflies. Long lasting flowers on a sturdy stem, makes it great for cutting. Tip:Sear Stem ends with candle or lighter to extend life. Awesome addition to a Moon Garden.


Instructions: Plant seeds directly outside in the fall with very light cover. Germination 18 - 28 days.


Habitat: Prefers consistently moist soil.


History: Native to Eastern North America.


Medicinal: All parts of this plant are poisonous if ingested, but the beauty of the flower is remarkable.