Type:
Herb
Seed #:
344
Common Name:
Chervil
Latin Name:
Anthriscus cerefoilum
Variety:
Biennial Herb
Colour:
N/A
Temperature:
15C - 21C (59F - 70F) (Zone 2)
Blooms:
June to September
Site:
Full Sun
Height:
65cm - 70cm (26" - 28")
Spread:
25cm - 30cm (10" - 12")
Quantity:
100 Seeds
Price:
$3.33

Attracts
Butterflies
Deer
Resistant
Scented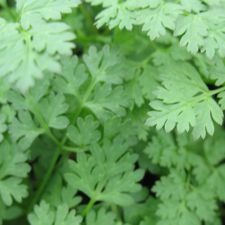 Notes: Great fresh or frozen. Difficult to find in stores. Use this parsley flavoured, quick growing plant as a late addition to cooked foods. Cool season plant that is sown in early Spring or late Summer for overwintering.


Instructions: For best result, direct sow 1 to 2 cm deep as the seedlings dislike transplanting. Lightly prune to encourage bushing effect. Flavour is strongest just before flowers open.


Medicinal: This herb is an excellent cleanser for skin. It also purifies blood and thus improves the blood circulation.