Type:
Perennial
Seed #:
348
Common Name:
Liatrus (Gayfeather)
Latin Name:
liatris spicata
Variety:
Mix
Colour:
purple, pink & white
Temperature:
15C - 25C (59F - 77F) (Zone 3)
Zone:
3
Blooms:
August - October
Site:
Full Sun
Height:
60cm - 90cm (24" - 35")
Spread:
30cm - 60cm (12" - 24")
Seeds per pack:
0
Price:
$0.00

Attracts
Butterflies
Great
Cutflower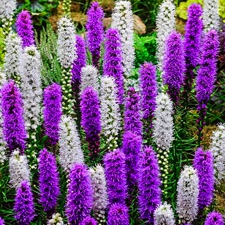 Notes: Extremely hardy cold,heat and drought tolerant perennial. Produces narrow grassy leaves that boast tall spikes, covered in purple, pink and white spike-like flowers in Summer. A favorite of florists as it makes a spectacular dried or fresh cut flower.


Instructions: Sow seed in early Spring indoors, or sow directly outside when temperatures allow. 14 -28 days to germination.