Type:
Perennial
Seed #:
35
Common Name:
Snow in Summer
Latin Name:
Cerastium tomentosum
Variety:
Snow Cap
Colour:
White
Temperature:
20C - 25C (68F - 77F) (Zone 2)
Zone:
2
Blooms:
May to June
Site:
Full Sun
Height:
10cm - 15cm (4" - 6")
Spread:
15cm - 20cm (6" - 8")
Quantity:
100 Seeds
Price:
$3.99

Attracts
Butterflies
Great
Cutflower
Deer
Resistant
Drought
Tolerant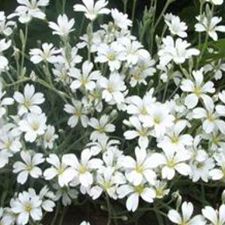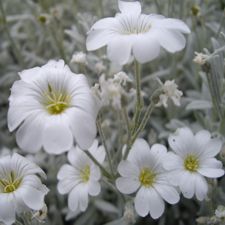 Notes: Hardy, dwarf, trailing and drought-tolerant plants with silvery foliage, covered in a blanket of white blossoms. Great for rock gardens and walls. Early bloomer. Sheer spent flowers to promote further blooms.


Instructions: Sow 1 to 2 mm deep. Germination is 5 to 15 days.


History: Cerastium is a perennial native to alpine regions of Europe.