Type:
Tomato
Seed #:
356 ( Edit )
Common Name:
Latah Red Tomato
Latin Name:
Lycopersicon
Variety:
Latah Early Red
Colour:
Red
Temperature:
18C - 25C (64F - 77F) (Zone 2)
Blooms:
50 days
Site:
Full Sun
Height:
90cm - 120cm (35" - 47")
Spread:
60cm - 90cm (24" - 35")
Quantity:
15 Seeds
Price:
$3.33

Attracts
Butterflies
Drought
Tolerant
Scented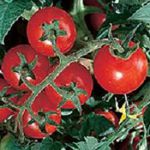 Notes: Latah Early Red is known for its very early ripening and great flavour. Perfect for short season. Indeterminate.


Instructions: Sow 1 to 2 cm deep and transplant when 2 true leaves appear. Start indoors and set out transplants when weather allows. Keep seedlings in a brightly lit location until transplant.