Type:
Tomato
Seed #:
357
Common Name:
Japanese Black Trifele Tomato
Latin Name:
Lycoperscion
Variety:
Japanese Black Trifele
Colour:
Deep Scarlet/Black
Temperature:
18C - 25C (64F - 77F) (Zone 2)
Blooms:
80 days
Site:
Full Sun
Height:
90cm - 0cm (35" - 0")
Spread:
60cm - 90cm (24" - 35")
Quantity:
15 Seeds
Price:
$3.99

Attracts
Butterflies
Drought
Tolerant
Scented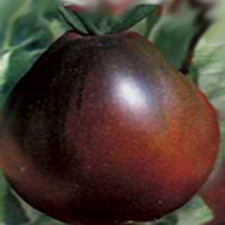 Notes: Japanese Black Trifle tomatoes are indeterminate plant with a potatoe like leaf. Pear shaped, deep red fruits with darker shoulders and loads of flavour. Very productive plants. Fruits store well and are resistant to cracking. Japanese Black Trifle is one of the darkest tomatoes available and is a unique addition to your garden and your culinary experience.


Instructions: Sow indoors 1 to 2 cm deep, 2 to 3 months before transplanting outside. After seedlings have set 2 sets of true leaves transplant to small containers until plant is established. It is now safe to transplant it once more to its finally home. Containers work well for many tomaotoes, allowing them to be moved in inclement weather. Does very well in a greenhouses but not required. Outdoor sowing requires direct sowing after last frost and thin to suit your space. Good drainage. Full Sun (6 to 8 hours) and even moisture are recommended for best results.