Type:
Perennial
Seed #:
362
Common Name:
Foxglove
Latin Name:
digitalis purpurea alba
Variety:
Foxglove
Colour:
white
Temperature:
10C - 15C (50F - 59F) (Zone 2)
Zone:
2
Blooms:
June - August
Site:
Full Sun
Height:
100cm - 120cm (39" - 47")
Spread:
30cm - 40cm (12" - 16")
Quantity:
150 Seeds
Price:
$3.99

Attracts
Butterflies
Deer
Resistant
Drought
Tolerant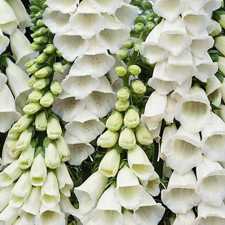 Notes: Foxglove produces spires of large white tubular flowers with gently speckled throats. Flowers 1st year from early sowing and plants are hardy biennials.Useful as cut flower or wild flowers.


Instructions: Direct sow 1 to 2 cm deep. Mid August to September.Self sows and makes a stunning statement when planted in larger quantity.


History: Foxglove is a native of Asia and Western Europe although it is not as commonly seen as in North America. Foxglove was first recorded in medical history in 18th century England, by William Withering (1741-1799)an English country doctor. It was also later recorded in Canadian history in the Great Lakes region near the St.Lawerence in 1959 by a botanist named Baldwin.


Medicinal: Foxglove can and will grow very well in almost any soil. For optimal production purposes however, it requires a light, well-drained, sunny site to obtain a higher active ingredient used for making heart medication.