Type:
Perennial
Seed #:
37
Common Name:
Cardoon
Latin Name:
Cardoon cardunculus
Variety:
Species plant
Colour:
Purple
Temperature:
15C - 22C (59F - 72F) (Zone 8 & up)
Zone:
8 & up
Blooms:
July to September
Site:
Full Sun
Height:
90cm - 120cm (35" - 47")
Spread:
30cm - 50cm (12" - 20")
Quantity:
25 Seeds
Price:
$3.99

Attracts
Butterflies
Great
Cutflower
Deer
Resistant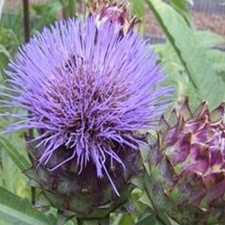 Notes: Huge silvery green leaves on Mediterranean looking plant. Produces fuzzy rich purple flowers resembling Artichokes on stems to 4 ft. tall or better. Stems are edible when steamed and seasoned. Does well in poor soil, full sun and dry conditions.


Instructions: Sow 3 to 5 mm. Germination is 10 days.