Type:
Vegetable
Seed #:
377
Common Name:
Daikon Radish
Latin Name:
Rhaphanus sativus
Variety:
Daikon
Colour:
Temperature:
10C - 15C (50F - 59F) (Zone 2)
Blooms:
50 - 60 days
Site:
Full Sun
Height:
10cm - 10cm (4" - 4")
Spread:
4cm - 6cm (2" - 2")
Quantity:
100 Seeds
Price:
$3.99

Attracts
Butterflies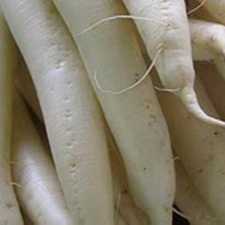 Notes: Daikon radish (Japanese for large root)produces large white carrot shaped roots with mild spicy flavour. Roots and tops are both edible. Grow in moist , deeply dug, moderately fertile soil


Instructions: Direct sow 2 mm deep when earth can be worked.In hotter months provide shade as some radishes have a tendency to bolt in hot afternoon sun.


Medicinal: Daikon radish is low in calories,rich in vitamin C and contains enzymes which aid in digestion, especially of starchy foods.