Type:
Perennial
Seed #:
38
Common Name:
Lychnis
Latin Name:
Lychnis coronaria
Variety:
Rose Campion
Colour:
Pink
Temperature:
18C - 22C (64F - 72F) (Zone 4 & up)
Zone:
4 & up
Blooms:
July to September
Site:
Full Sun
Height:
50cm - 75cm (20" - 30")
Spread:
25cm - 45cm (10" - 18")
Seeds per pack:
50
Price:
$4.00

Attracts
Butterflies
Deer
Resistant
Drought
Tolerant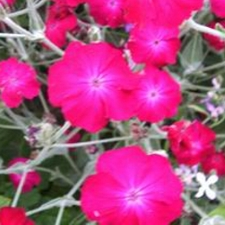 Notes: This perennial forms dense clumps of silver-white foliage and multi-branched, gray-green stems and produces masses of deep to moderate pink blooms for much of the summer. They are very drought tolerant and are known to be deer resistant.


Instructions: Needs light to germinate. Do not cover. surface sow in moist germination mix or directly outside in late Spring. 21 to 28 days. Transplants easily. Appreciates staying moist until established. Very easy to grow.