Type:
Vegetable
Seed #:
382
Common Name:
Garlic Chives
Latin Name:
allium schoenoprasum
Variety:
Culinary
Colour:
Green
Temperature:
15C - 20C (59F - 68F) (Zone 2)
Blooms:
90 days
Site:
Full Sun Part Shade
Height:
20cm - 30cm (8" - 12")
Spread:
25cm - 30cm (10" - 12")
Quantity:
125 Seeds
Price:
$2.99

Attracts
Butterflies
Deer
Resistant
Scented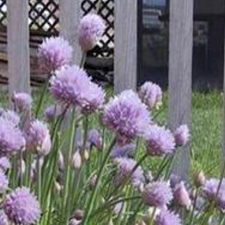 Notes: This perennial herb is similar to flowering chives but has flat leaves and a great medium garlic flavour. Flowers are extremely tasty and can be used for dried arrangements. Once you have them you find it's a fantastic mild garlic flavour that adds just the right touch to any dish where garlic is required. A delight to any garden or salad.


Instructions: Direct seed at 2 mm deep. Chives will grow in ordinary garden soil and are best sown in groups to aid with the clumping effect. Beds should be replanted every 3 to 4 years and beyond weeding between the clumps no extra care is needed. Chives can be eaten at any stage, including the flowers.


Habitat: Plant in full sun to part shade in well-drained soil with good organic content.


History: Native to Asia Europe and North America and has been cultivated for over 5000 years.


Medicinal: Chives are rich in vitamin A and C, calcium, iron and contain trace amounts of sulphur.