Type:
Vegetable
Seed #:
386
Common Name:
Amaranthus
Latin Name:
Amaranthus caudatus
Variety:
Burgandy Grain
Colour:
Red
Temperature:
20C - 25C (68F - 77F) (Zone 2)
Blooms:
40 - 50 days
Site:
Full Sun
Height:
160cm - 180cm (63" - 71")
Spread:
10cm - 15cm (4" - 6")
Quantity:
125 Seeds
Price:
$3.99

Attracts
Butterflies
Great
Cutflower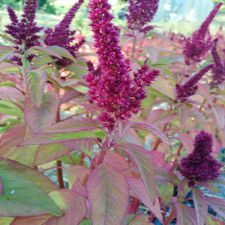 Notes: Clearance Sale. This ancient Aztec gluten-free grain is related to Quinoa, Beet and Chard. Five to six-foot-tall at Summers end, and they produce plumes of highly ornamental wine-red flowers and edible burgundy leaves. Highly ornamental and produces an abundance of white seeds.


Instructions: Do not cover. Amaranths seeds need light to germinate.


Habitat: Flourishes in warm, well drained soil.