Type:
Perennial
Seed #:
39
Common Name:
Wallflower
Latin Name:
Erysimum cheiri
Variety:
Monarch Fair Lady
Colour:
Red,Yellow,Orange Mix
Temperature:
13C - 18C (55F - 64F) (Zone 8 & up)
Zone:
8 & up
Blooms:
May to July
Site:
Full Sun or Part Shade
Height:
45cm - 50cm (18" - 20")
Spread:
20cm - 35cm (8" - 14")
Seeds per pack:
50
Price:
$4.00

Attracts
Butterflies
Great
Cutflower
Deer
Resistant
Scented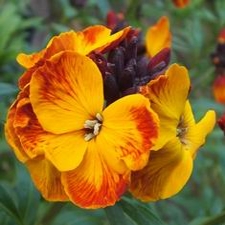 Notes: Scented goddess. The perfect border plant that is great in beds. This early, lengthy bloomer provides masses of sweetly scented flowers in marbled and solid colours. Plant in a sunny, open position in well-drained fertile soil. Cut back after blooming leaving only a few leaves on each stem. Spectacular cut-flower. The incredible aroma easily fills a room. Very easy to grow and deer resistant. Great early Spring scent and colour. Will bloom early as February in warm climates.


Instructions: Sow 2 mm deep. Germinates in 5 to 10 days.