Type:
Tomato
Seed #:
395
Common Name:
Black Cherry Tomato
Latin Name:
Heritage Tomato
Variety:
Black Cherry Heritage Tomato
Colour:
deep red
Temperature:
18C - 22C (64F - 72F) (Zone 2)
Blooms:
65 days
Site:
Full Sun
Height:
85cm - 160cm (33" - 63")
Spread:
60cm - 70cm (24" - 28")
Quantity:
20 Seeds
Price:
$3.99

Attracts
Butterflies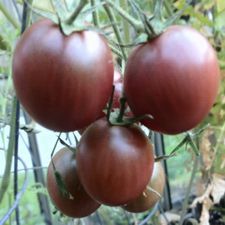 Notes: Mixing these delicious vining black cherry tomatoes with a yellow and red variety adds colour tomatoes garden as well as your dinner and salad plates. Beyond Coyote White is my favourite of this variety. Its ample harvest and smooth, thin skin and sweet taste are a sure-fire winner with your taste buds and your pride.


Instructions: Sow indoors 2 to 3 months before transplanting outside. After seedlings have set 2 sets of true leaves transplant to small containers until the plant is established. It is now safe to transplant it once more to its final home. Containers work well for many tomatoes, allowing them to be moved in inclement weather. Does very well in a greenhouse but not required. Outdoor sowing requires direct sowing after the last frost and thin to suit your space. Good drainage. Full Sun (6 to 8 hours) and even moisture are recommended for best results.


Habitat: Full Sun, well drained and even moisture and ample sunlight are the keys to success with tomatoes. They do well in pots and of course greenhouses but will do fine out doors in the conditions stated.