Type:
Herb
Seed #:
4
Common Name:
Echinacea
Latin Name:
Echinacea purpurea
Variety:
Purple Cone Flower
Colour:
Purple
Temperature:
20C - 25C (68F - 77F) (Zone 3)
Blooms:
July to September
Site:
Full Sun or Part Shade
Height:
85cm - 95cm (33" - 37")
Spread:
25cm - 30cm (10" - 12")
Quantity:
40 Seeds
Price:
$3.99

Attracts
Butterflies
Great
Cutflower
Deer
Resistant
Drought
Tolerant
Scented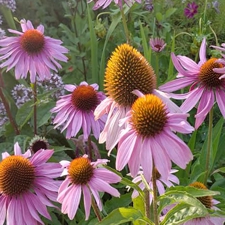 Notes: A bouquet sweet scent fills a room and the birds love the seed heads in the winter garden. Echinacea is reputed to increase the body's resistance to infection and colds. Scented, deer resistant, drought tolerant and attracts beneficial insects. Striking purple daisy-like flowers with orange and golden brown central cones. A very frost hardy plant that likes full sun and fertile soil and will provide abundant cut-flowers once established.


Instructions: Sow 5 mm deep indoors 6 weeks before the last frost. Transplant into clumps for an eye-popping effect. Keep moist but not wet until established. Germination is 7 to 21 days.


Habitat: Echinacea does best in a sunny position with loamy, well-drained soil. Echinacea will tolerate some shade, is drought tolerant and deer resistant. It can be grown in cooler climates in pots or in a micro-climate that provides warmth and shelter. (eg:) Against the south wall of your house. Urban areas may be a full hardiness Zone warmer than rural areas just a few miles away. Urban areas tend to have less extreme low temperatures than the surrounding countryside. Buildings and paved surfaces absorb heat during the day, then radiate it back into the air at night, reducing the chances of frost and moderating low temperatures during winter. Buildings also offer protection from wind in many places.