Type:
Annual
Seed #:
406
Common Name:
Tobacco - Ancient Hopi
Latin Name:
Nicotiana rustica
Variety:
Ancient Hopi
Colour:
Yellow
Temperature:
18C - 28C (64F - 82F) (Zone 2)
Blooms:
July to October
Site:
Full Sun
Height:
120cm - 200cm (47" - 79")
Spread:
35cm - 50cm (14" - 20")
Seeds per pack:
0
Price:
$0.00

Attracts
Butterflies
Great
Cutflower
Deer
Resistant
Drought
Tolerant
Scented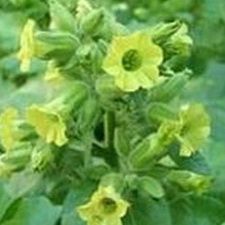 Notes: Later bloomer encourages pollinators to stay in your garden all season and will help increase your yield. Leaves can be used for making an insect controlling tea.


Instructions: Surface Sow. Like many plants in the Nicotiana family, these seeds need light to germinate. The rule of thumb for sowing seed is the smaller the seed the closer to God. And Nicotiana is even smaller than a poppy seed so if it gets buried too deep in the soil it will not germinate. Using a germination mix with these are recommended as its consistency is denser, not allowing the seed to fall into the soil as easily. We recommend you water all your seedlings from the bottom, allowing them to soak up the moisture they need and leaving the top layer of soil undisturbed. Try it with all your seedlings. I am sure you will notice a larger survival ratio.


Medicinal: Extreme caution is advised if growing for medicinal uses. This is not anything like the tobacco you are used too. Hopi tobacco contains a much stronger variety of alkaloid compounds, bred out of modern day tobacco. The effect of Hopi tobacco can result hallucinations and unpleasant physiological effects. The Hopi only used it in important ceremonies. It is not recommended as a recreational drug for modern day as its effects can be quite significant and unhealthy if not administered by a trained professional. We offer this Burly tobacco because of its heritage and the benefits it brings to our garden. Its unusual flower is an elegant pale yellow bell shape that catches your eye immediately.