Type:
Annual
Seed #:
409
Common Name:
Sunflower - Giganteus
Latin Name:
Helianthus
Variety:
Giganteus
Colour:
Yellow
Temperature:
18C - 28C (64F - 82F) (Zone 2)
Blooms:
July - September
Site:
Full Sun
Height:
300cm - 450cm (118" - 177")
Spread:
35cm - 70cm (14" - 28")
Quantity:
10 Seeds
Price:
$3.99

Attracts
Butterflies
Great
Cutflower
Deer
Resistant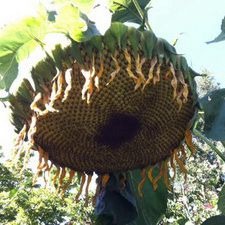 Notes: Perfect to grow your own seeds to eat. Kids love it. You will find this gargantuan focal point a natural bird feeder if you so choose to leave the seeds to Mother Nature and her entourage. Its flower heads are as the name states, gigantic at 1 to 1.5 feet across. It has thick stems and giant leaves on strong stalks that rarely need staking unless the area is very windy. In peak time it is definitely pictured worthy and provides plump tasty seeds for eating, roasted or raw.


Instructions: Sow 3 cm deep. Germination is 8 to 15 days. Start indoors in April or direct sow outside when soil temperature allows.