Type:
Perennial
Seed #:
41
Common Name:
Canterbury Bells
Latin Name:
Campanula carpatica
Variety:
Blue Bells (Peachleaf)
Colour:
Blue
Temperature:
20C - 28C (68F - 82F) (Zone 2)
Zone:
2
Blooms:
June to September
Site:
Full Sun or Part Shade
Height:
20cm - 30cm (8" - 12")
Spread:
15cm - 20cm (6" - 8")
Seeds per pack:
0
Price:
$0.00

Attracts
Butterflies
Great
Cutflower
Drought
Tolerant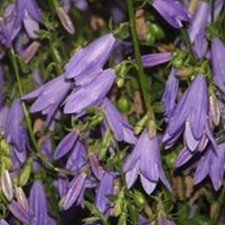 Notes: A long-lasting cut flower that produces abundant stalks of small bell-shaped blooms in shades of blue and white with some pinks. Prefers good drainage. Very drought tolerant easy to grow, low maintenance plant. Hardy to zone 2-3.


Instructions: Direct sow. No cover. Germination is 10 to 21 days.