Type:
Vegetable
Seed #:
411
Common Name:
Carrots - Danver Half long
Latin Name:
Variety:
Half Longs
Colour:
Orange
Temperature:
10C - 18C (50F - 64F) (Zone 2)
Blooms:
68 Days
Site:
Full Sun
Height:
16cm - 20cm (6" - 8")
Spread:
15cm - 30cm (6" - 12")
Quantity:
100 Seeds
Price:
$3.99

Attracts
Butterflies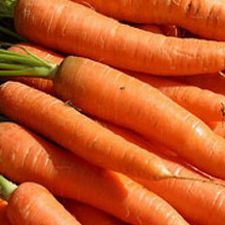 Notes: Tasty tapering semi blunted ends. Very suitable for home gardeners needs. Easy to grow. Carrots thrive when planted near lettuce, chives, leeks, rosemary, sage, peas and wormwood.


Instructions: Direct sow carrots outdoors 1.5 inches deep when the earth can be worked. The bed should be worked deep into the soil to allow the carrot to grow unencumbered by tightly packed soil. Thin to 2" per plant and spread rows 15" apart for best results.


Habitat: Prefers a rich,well-drained, full sun location. Plant marigolds in alternate rows to deter carrot fly. If you let carrots go to seed you will find that their flowers attract butterflies like a magnet. Carrots take two years to flower but are not a commonly seen flower and worth waiting for. Especially if there are several. Flower heads can be dried and used in arrangements.


History: Carrots were first cultivated in the Mediterranean in 500 BC. They were purple, yellow and white. In the 17th century, Japan developed the carrot we see in grocery stores today.