Type:
Tomato
Seed #:
412
Common Name:
Voyageur Tomato
Latin Name:
Lycoperscion
Variety:
Voyageur (Rare)
Colour:
Red
Temperature:
18C - 20C (64F - 68F) (Zone 2)
Blooms:
70 - 80 days
Site:
Full Sun
Height:
60cm - 170cm (24" - 67")
Spread:
20cm - 30cm (8" - 12")
Quantity:
10 Seeds
Price:
$3.33

Attracts
Butterflies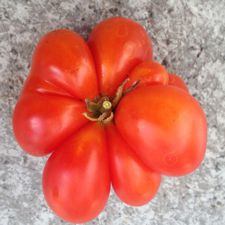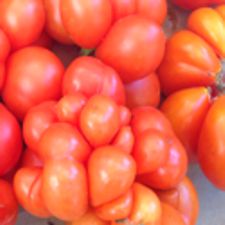 Notes: The fruit consists of bunches of small lobes, which separate easily but are all part of one fruit. Fruits are generally 3" across with multiple cherry sized lobes. This is the most unique variety we offer. If tomatoes looking for unique. This is your 1# choice. Indeterminate


Instructions: Sow indoors 1 to 2 cm deep, 2 to 3 months before transplanting outside. After seedlings have set 2 sets of true leaves transplant to small containers until the plant is established. It is now safe to transplant it once more to its final home. Containers work well for many tomatoes, allowing them to be moved in inclement weather. Does very well in a greenhouse but not required. Outdoor sowing requires direct sowing after last frost and thin to suit your space. Good drainage. Full Sun (6 to 8 hours) and even moisture are recommended for best results.


History: This tomato is extremely rare. Alternately called Reisotomate (Travel Tomato) or Reisentomate (Giant Tomato). Some translations also mean bunch tomato.