Type:
Tomato
Seed #:
419 ( Edit )
Common Name:
Yellow Plum Tomato
Latin Name:
lycoperscion esculentum
Variety:
Yellow Plum
Colour:
Yellow
Temperature:
18C - 20C (64F - 68F) (Zone 2)
Blooms:
70 days
Site:
Full Sun
Height:
100cm - 120cm (39" - 47")
Spread:
15cm - 20cm (6" - 8")
Quantity:
20 Seeds
Price:
$3.33

Attracts
Butterflies
Scented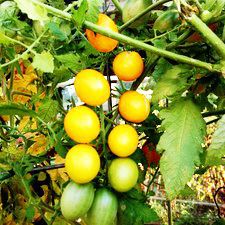 Notes: Yellow Plum Tomato (indeterminate) Produces nice yields of 1 to 2 inch plum shaped, yellow fruits, born in clusters. Plants grow tall and showed good disease resistance and tomatoes late into the season. It has a very sweet rich flavour that is a great addition to salads and works great for canning.


Instructions: Sow indoors 1 to 2 cm deep, 2 to 3 months before transplanting outside. After seedlings have set 2 sets of true leaves transplant to small containers until the plant is established. It is now safe to transplant it once more to its final home. Containers work well for many tomatoes, allowing them to be moved in inclement weather. Outdoor sowing requires direct sowing after last frost and thin to suit your space. Good drainage. Full Sun (6 to 8 hours) and even moisture are recommended for best results.